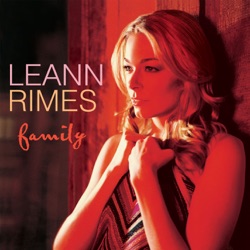 Family
Genre: Country
Release Date: 09 October 2007
Explicitness: notExplicit
Country: USA
Track Count: 14
℗ 2007 Curb Records, Inc.
Family Tracks
About Family Album
Family album info coming soon..
country,
pop,
female vocalists,
USA,
Love,
easy listening,
2007,
country pop,
00s,
laptop,
my music,
female singer songwriter,
american musician,
l r,
Leann Rimes -Family,
You can find here track previews from artist LeAnn Rimes album Family, released 09 October 2007 and containing 14 tracks. Listening online to LeAnn Rimes - Family song previews is free and does not require registration..


Do you like Family album? Please Share!


LeAnn Rimes - Family Reviews
Family Song

By LaVicha

Leann Rimes has some nerve writting a song about family when she destroyed a marriage and ran off with a married man!

Whatever we wanna!?

By Kendra G.

This album is great,..,iTunes to put her Whatever We Wanna album on here fro her American fans

Awesome

By ksulli21

I really don't fancy myself to be a big Leann Rimes fan, but as musician and song writer in Nashville, I have to say this is a good album. Some of the tunes are fun to play and the lyrics in a couple of songs are very cleverly written. Good job Leann!!

too pop not country

By brandilynn.texas

the first two songs are ok. the rest is pop and not really country. its reminiscent of Jessica Simpson.

her name

By xpudgiepandax

first of all I LOVE THIS ALBUM!!! and her name means so much to me, before i was born my family (2 brothers and a mom and dad) had to choose a name for me so they all put a name in the basket mixed it around and got "leann" my younger brother had an obsession with leann rimes. so my dad decided to have that name but put an A at the end so my name is leanna and this name means so much to me. :)

Leann

By Dzyblonde

I wish she would come out with another CD! I hope she travels and tours in Utah soon if she has I missed LOVE YOU LEANN HOPE TO SEE YOU IN CONCERT SOON! I saw you on my birthday a couple while back on my birthday week March 16 in Wendover! Hope you come out with a new album this year!!

Over the Years..

By sancritic

I have loved Leann, since her hit with "How Do I Live". I think her albums get better and better every time. Some of favorite songs from this album are, Nothin better to do, good friend and a glass of wine,nothin wrong, pretty things,and what i can not change. But the Greatest Song ever is the duet with Bon Jovi. I Absolutley, positivley, LOVE this song. When she sang it on Bon Jovi unplugged, i got chills.

Nothin' Better To Do

By Wiir deranged chickens 02

We love the song Nothin' Better To Do. It is a get going and start moving great song. We like Leann in general. She's good!

Leann Rimes

By iluvjustinbieber!!!!!

Amazing voice

GO LEEANN RYMES!

By Marshaltom

Keep on making good songs!