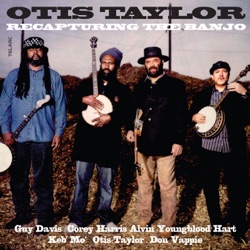 Ten Million Slaves Track - Listen
| | | Title | Artist | Time | |
| --- | --- | --- | --- | --- | --- |
| 1 | | Ten Million Slaves | Otis Taylor | 4:10 | USD 0.99 |
Ten Million Slaves Lyric
Rain and fire crossed that ocean
Another mad man done struck again
Rain and fire crossed that ocean
Another mad man done struck again
Sitting down here fallout shelter
Paint my walls, twice a week
Sitting [...]Rain and fire crossed that ocean
Another mad man done struck again
Rain and fire crossed that ocean
Another mad man done struck again
Sitting down here fallout shelter
Paint my walls, twice a week
Sitting [...]
blues,
folk,
acoustic blues,
Soundtrack,
public enemies soundtrack,
Modern Acoustic Blues,
banjo,
Otis Taylor,
blues rock,
ten million slaves,
rock,
beautiful,
american,
public enemies,
gimme sum friends03,
jazz,
best songs ever,
Contemporary Blues,
trance blues,
I need to check this out again,
Electric Country Blues,
gimme sum friends,
otis taylor ten million slaves,
vugube62,
singer-songwriter,
You can find here track previews from artist Otis Taylor album Recapturing the Banjo Ten Million Slaves, released 05 February 2008. Listening online to Otis Taylor - Recapturing the Banjo - Ten Million Slaves track/song preview is free and does not require registration..


Do you like Ten Million Slaves? Please Share!


Ten Million Slaves - Recapturing the Banjo Comments
Ten Million Slaves - Recapturing the Banjo Reviews