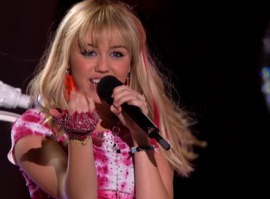 Supergirl (Live)
Genre: Soundtrack
Release Date: 01 January 2009
Explicitness: notExplicit
Country: USA
Video Length: 2:55
Supergirl (Live) Music Video
Supergirl (Live) Lyric
Supergirl (Live) Hannah Montana video clip..
Do you like Supergirl (Live) - Hannah Montana video clip? Please Share!


Supergirl (Live) - Hannah Montana Reviews
Ummmm

By Coffee Bre

This song was always very interesting....

Luv it!!

By Awesomepuppy

This is one of my favorite songs of all time. I love Hannah Montana. Does she still do concerts? I want to go to one extremely bad!!!!!! I recommend this song!!!!!!

Eh

By JadaS2000❤

She looks like she's not enjoying herself

Great!

By double digit

This is a great video even if it is live. She might not be Hannah Montana anymore but she is still a supergirl. A great buy.

Sooo cute!

By Zendaya Swag

I love Hannah she is such a good role model and she is fun! I love her on Hannah Montana and her voice too! Way to go Miley!

Awesome

By Faith. Helfrich

Your. Awesome

Super Ugly, Super NOT!!!

By ch33rych3rry

NOT COOL, NOT HOT! VAIN!!!!!!!!!!!!!!!!!!!!!!!!!!!!! It's Super-Super-Super-lame!

Copied song

Copied and sung very bad

Not a great song but not a bad one

By Mack Power

I really enjoy this song!!!

Super duper annoying!!!!

By U. S. A.

Get over ur self Miley, I mean Hannah, mean Miley! Wait, what?!? I'm confused. Why did she say that she wants kids to "relate" to her and her music if she "created" a "double"life that NO ONE can relate to expect for her! Yeah keep living ur life Miley cause ur going to get fired FAST!! Haters... GROW UP!!! Hannah's for 5 YEAR OLDS!!!!! Come on. Super Girl? Soooo lame! :( she stinks! Get over it already!
Supergirl (Live) - Hannah Montana Comments