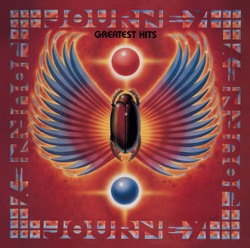 Greatest Hits
Genre: Rock
Release Date: 31 July 2006
Explicitness: notExplicit
Country: USA
Track Count: 16
℗ 1978, 1979, 1980, 1981, 1982, 1983, 1985, 1986, 1996, 2006 Sony Music Entertainment
Greatest Hits Tracks
About Greatest Hits Album
Greatest Hits is a compilation album by the American rock band Journey, originally released in 1988 by Columbia Records. It is the band's best-selling career disc, spending 330 weeks on the Billboard 200 album chart (more than any other compilation album, except for Bob Marley's Legend disc, in history). Additionally, as of late 2014, it has logged nearly 1,000 weeks on Billboard's Catalog albums chart. As of December 2008, it was reported to have
classic rock,
journey,
80s,
rock,
albums I own,
greatest hits,
Progressive rock,
journey greatest hits,
Only the young,
american,
favorite albums,
male vocalists,
send her my love,
70s,
hard rock,
compilation,
ballads,
my fav albums,
soft rock,
arena rock,
Ballad,
slgdmbestof,
whos crying now,
heavy metal,
metal,
pop rock,
slow,
Love,
Power ballad,
hair metal,
You can find here track previews from artist Journey album Greatest Hits, released 31 July 2006 and containing 16 tracks. Listening online to Journey - Greatest Hits song previews is free and does not require registration..


Do you like Greatest Hits album? Please Share!


Greatest Hits Album Comments