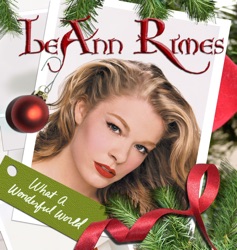 What a Wonderful World
Genre: Country
Release Date: 12 October 2004
Explicitness: notExplicit
Country: USA
Track Count: 10
℗ 2004 Curb Records, Inc.
What a Wonderful World Tracks
About What a Wonderful World Album
What a Wonderful World album info coming soon..
christmas,
country,
00s,
pop,
rock,
singer-songwriter,
USA,
dance,
2004,
american,
xmas,
female vocalist,
country christmas,
laptop,
holidays,
contemporary country,
female singer songwriter,
new traditionalist country,
I have this album,
You can find here track previews from artist LeAnn Rimes album What a Wonderful World, released 12 October 2004 and containing 10 tracks. Listening online to LeAnn Rimes - What a Wonderful World song previews is free and does not require registration..


Do you like What a Wonderful World album? Please Share!


LeAnn Rimes - What a Wonderful World Reviews
Save the trills and riffs for pop songs

By Ladydi5548

Leanne has a beautiful voice, but she absolutely slaughters O HOLY NIGHT. One of the worst renditions I have ever heard. Why can't she just hit the note instead of singing all around it with all the riffs and trills. Save that for pop tunes.

LeAnn's Holiday Offering

By a song 4u

I bought this cd when it first came out and it's part of my holiday playlist still. Sure, the title track is LeAnn's message song post 911 but it's not so heavy handed that it haunts the rest of the day. Most holiday albums are a bit manic in that they have to include every Christmas Carol ever written and the arrangements have to be so sweetened by full-scale orchesrtra that can come off as overwhelming. LeAnn sticks close to her country-pop roots even doing a faithful cover of Brenda Lee's "Rockin' Around The Christmas Tree." "All I Want For Christmas Is You" is not a cover of Mariah Carey's original but a retro rock arranged ballad yearning for her love to be with her on the holiday. The message of Mariah and LeAnn's song and the title are the same, but worlds apart in lyric and style. The one song I have a problem with is "O Holy Night" which is a bear to sing and the difficulity should have been no problem for LeAnn, for she is rather accomplished and singing this song straight forward should have been a display of her power and control. She instead breaks the melody by doing runs and not holding notes. The rest of the material LeAnn handles well and overall this cd is lighthearted fun.

O Holy Night

By eia7703

Just listen to her sign this. Nobody compares to her singing of this song , trust me I have tried. Great singing!

meets all expectations!!

By amidol fan

Let me start by saying that I am a HUGE fan of LeAnn Rimes and expected a lot from her in this Christmas album. While the album is nothing spectacular, the track "I Miss You Like Christmas" is gorgeous. There is something missing though, a little spark or flair of excitement. It could've been better, but LeAnn Rimes still delivers a solid Christmas album.

AMAZING

By LeAnnRimesRulez

LeAnn can sing anything and she puts her stamp on everything! This is one of the greatest Christmas albums ever! LeAnn is amazing! She is one of the very few that can give me goosebumps.

Definantly A Sound Of The Season!

By leannfan

I give this 5 stars because she has a strong voice and passion when she sings. I'd reccommend this to anyone!

OK but...

By olmckids

The original songs are wonderful, "Rockin' Around the Christmas tree is extremely good. The standards are good. She totally wasted "O Holy Night." I love that song and was expecting to get the chills I got with "Blue." Didn't even come close. Basically I was disappointed.

GREAT

By flamingrythm

i love her version of Rockin' Around the Christmas Tree

LOVE THIS ALBUM

By mexico bound

omg, best christmas album ever made, it is worth every penny! LOVE IT!!!

holiday favorite

By Amiika

I bought this when it was released a few years ago, and I always look forward to playing around the holiday season. "All I Want For Christmas" and "Have Yourself A Merry Little Christmas" are my favorites. Her strong voice with Christmas music is great!
What a Wonderful World Album Comments
What a Wonderful World - LeAnn Rimes Videos